News: Contact Us
We have experienced some issues this month of December with our contact form. If you filled out the form this month, and did not hear from us, please check back in with us by contacting directly at stimsonbulldogs@gmail.com. If you have not tried contacting us, but would like to, please send an email directly to the address listed above. You can also call or text 913-530-5781. Thank you, and Merry Christmas!
Why Choose Us
We have been raising English bulldogs for the past 32 years, and thoroughly enjoy the breed with its friendly, laid back demeanor, loads of wrinkles and very little barking. Jon is a natural with the care of the bullies and they adore him. He spends the majority of his day with the litters in our walkout basement and the dogs out in our modern kennel. After 32 years of being around bulldogs, Jon's experience is a valuable asset to anyone who gets a pup from Stimson Bulldogs. We work to raise healthy bulldogs with good conformation and personality, but in the event an unforeseen health problem arises, Stimson Bulldogs has a year guarantee on genetic issues. We welcome visits of prospective buyers who want to meet our pups and their parents in person, as well as check out our operation. For those who are too far away, we can send pictures and an occasional video clip. We have many satisfied families who are enjoying a Stimson Bulldog. Check out our Facebook page at Stimson Bulldogs to see the bullies with their new families.
Available Puppies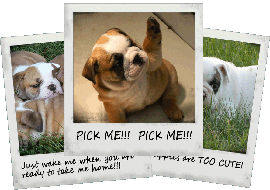 Bulldogs: From Our Experience
Bulldogs are a wonderful family pet. Bullies bark very little and snort and snore a little more, adapt well to their new family, and are loyal to those who love them. You will be a celebrity in your neighborhood when you take your bully for a walk. Since having our first English bulldog pups for sale in 1987, we have sent English bulldog pups from our home near Clarinda, Iowa all over the United States. As English bulldog breeders of over 31 years, we feel we have been given a great opportunity to provide others with a pet that will give them loyal companionship and years of satisfaction. From their 'sour mug' look to their outlook on life, bulldogs are characters that love their people and are steady companions that offer plenty of entertainment for the whole family.
Stimson
Bulldogs
from our home to yours
(913)530-5781